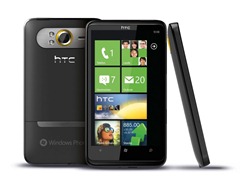 In the quest to find out how many Windows phone 7 handsets are actually in the hands of consumers statements from carriers have been hard to come by.
CNET has however managed to squeeze a brief statement from a T-Mobile rep, who said:
Our new Windows Phone 7 offering, the HTC HD7, is also among our customers' top smartphone choices.
Of course it helps to remember that these days T-Mobile has an extremely competitive line-up of smartphones, including the Motorola Defy, T-Mobile myTouch 4G,  and T-Mobile G2, which makes pretty good company for the HD7, and helps debunk the myth that consumers are not interested in Windows Phone 7.