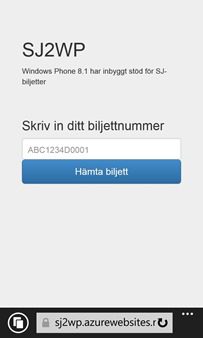 Windows Phone 8.1's Wallet app quietly support's Apple's Passbook feature, allowing users to save etickets to a convenient location on their phone.
Unfortunately not all services offer the passbook file to Windows Phones, but Swedish developer Mikael Bolinder was able to correct this for Sweden's national train service with a web app which will make the Passbook available for download by simple entering the booking number at his Azure-powered site.
Lucky Swedish users can download their etickets by visiting the app at https://sj2wp.azurewebsites.net/.
I know Windows Phone 8.1 users have complained that the Wallet and Passbook feature does not work very well, particularly for Delta Airline tickets. What have our reader's experience been so far? Let us know below.