A survey of 544 North American and European businesses Spiceworks has found that the majority of businesses now use OneDrive as a cloud storage solution, well ahead of competitors such as Dropbox and Google Drive.
80% of companies now use cloud storage (and 16% plan to in 2 years) and of those 51% use OneDrive, vs 34% for Dropbox and Google Drive.  Other solutions are much further behind – Apple iCloud (13 percent), Box (six percent), Citrix ShareFile (six percent) and, Amazon Drive (three percent).
Spicework's last survey on the topic in March 2016 only found 31% of companies using OneDrive, while 33% used DropBox and 27% Google Drive.
OneDrive's momentum appears set to continue into the future – 10% of companies intend to deploy it within 1-2 years, vs 2% for Google Drive and 3% for Dropbox.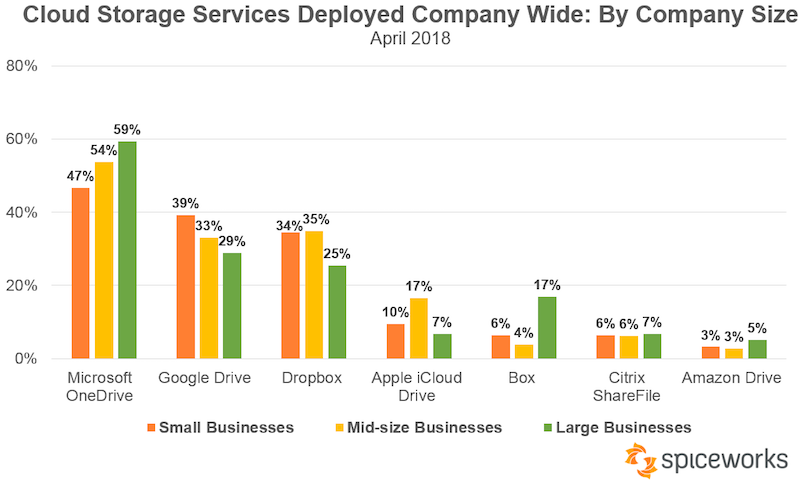 Microsoft's best market appears to be larger companies, with adoption increasing the more employees a company has. In contrast, Google Drive is mainly used by smaller companies, with larger companies appearing to avoid it.
Microsoft, of course, has an advantage over other companies, with 1 TB of OneDrive being included with every Office 365 subscription, making OneDrive a way to save money over stand-alone cloud storage offerings.
Microsoft is also perceived as being more secure: 39 percent of business technology buyers said they primarily associate OneDrive with its security, compared to 28 percent saying so about Google Drive and 19 percent saying so about Dropbox.
Microsoft has woven OneDrive into a number of its productivity offerings, and so far its strategy appears to be finally paying off.
More on SpiceWork's report can be read here.