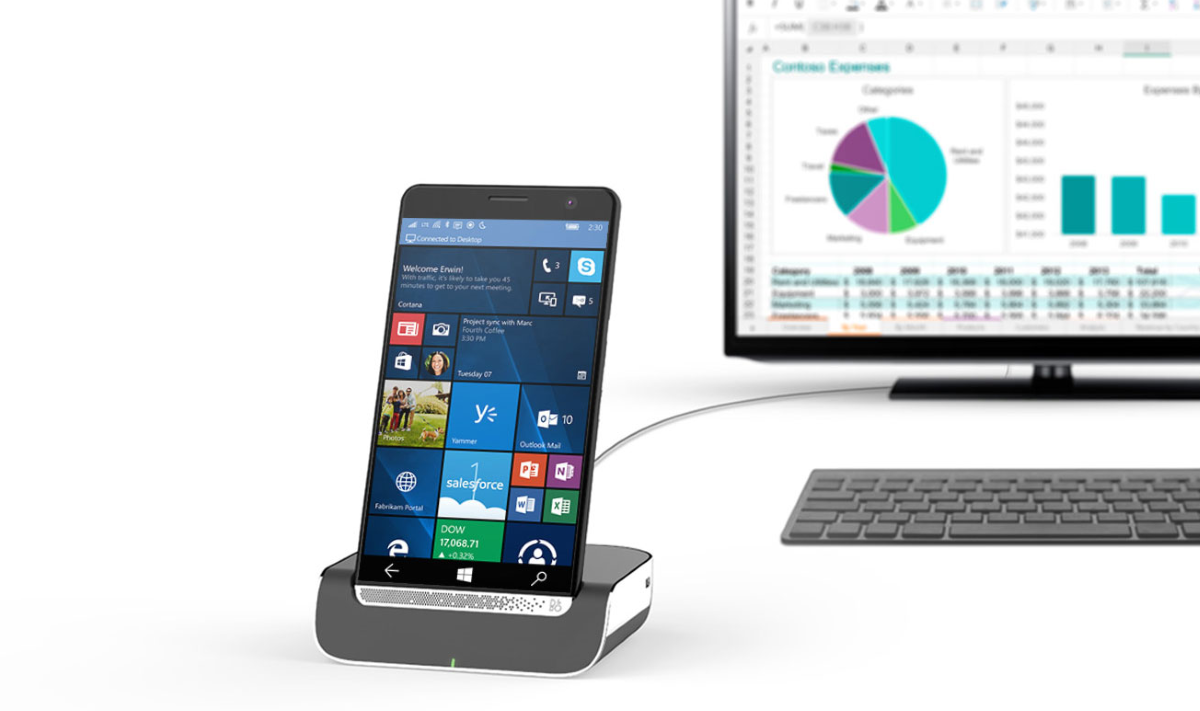 Yesterday, we reported that the HP Elite x3 will cost $699 in the United States. A lot of people complained about the device being "too expensive" — even though it actually isn't. The HP Elite x3 is a powerful device, a really powerful device. The device comes with 5.96-inch WQHD display with Corning Gorilla Glass 4, 64GB of internal storage (microSD slot included), the Qualcomm Snapdragon 820, 4GB of RAM, a 16MP rear camera, and an 8MP front camera. The phone also comes with front-facing speakers from Bang & Olufsen, and it's also dust and water resistant (IP67). The device comes with a huge 4150mAh battery, and it also supports wireless charging. Finally, the device includes an Iris scanner for Windows Hello and if you are not a fan of Iris scanners on phones, there is also a fingerprint scanner on the back. The device also supports Continuum for phones, which will technically allow you to use your phone as a laptop via the company's Mobile Extender and Continuum dock ($100 extra). You get all of  this with a device that's only 7.8 mm thick and weighs only 190 grams, for $699.
For comparison, the Apple iPhone 6s Plus 64GB variant costs $849, and that comes with 2GB of RAM, a 5.5-inch 1080P display, a fingerprint scanner,  a 2750 mAh battery, and no microSD card slot. The Samsung Galaxy S7, on the other hand,  comes with a 5.1-inch WQHD display, a 12MP rear camera, a 5MP front camera, 4GB RAM, Snapdragon 820, and a 3000mAh battery for $799.
Of course, the main difference between these devices is the operating system. A lot of consumers won't spend $799 on a Windows 10 Mobile device — but the thing is, the HP Elite x3 isn't for consumers. From day one, HP has been targeting the Elite x3 towards businesses, and it's one of their "business tablets."
Windows 10 Mobile is actually a pretty good and secure OS for businesses. HP can't just do what companies like OnePlus do with their flagships; the company needs to generate good profit from the Elite x3 devices.
In many ways, the handset is more comparable to the Windows Mobile 6.5 handsets developed by Motorola Solutions which retail for closer to $2000.
And unlike those handsets for $699 you are getting a lot of power with the Elite x3. The device can theoretically replace your laptop, and that's one of the key reasons why businesses might be interested in the Elite x3. Also, it's worth noting that when businesses buy the device in bulk, they will get a better price from HP.
The HP's Elite x3 should be a very nice device, but if you don't need its powerful hardware, you are better off getting a Lumia 950 or a Lumia 950 XL. So yes, stop complaining about the Elite x3's price. It's expensive, yes — but it's worth it.
Editor's note: HP has revealed the price of the Elite x3 without the Continuum dock on 18th July. The device will be available for $699 without the dock, and $799 if you want the Continuum dock. We have updated the article to include the new information.