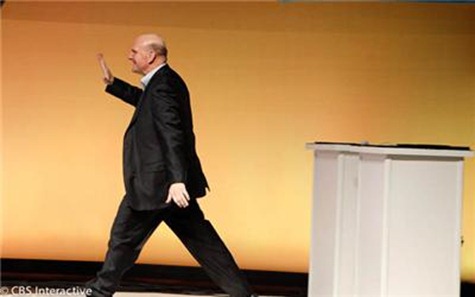 In an internal memo to staff Microsoft CEO Steve Ballmer announced his intention to retire within 12 months.
He writes:
I am writing to let you know that I will retire as CEO of Microsoft within the next 12 months, after a successor is chosen. There is never a perfect time for this type of transition, but now is the right time. My original thoughts on timing would have had my retirement happen in the middle of our transformation to a devices and services company focused on empowering customers in the activities they value most. We need a CEO who will be here longer term for this new direction. You can read the press release on Microsoft News Center.

This is a time of important transformation for Microsoft. Our new Senior Leadership team is amazing. The strategy we have generated is first class. Our new organization, which is centered on functions and engineering areas, is right for the opportunities and challenges ahead.

Microsoft is an amazing place. I love this company. I love the way we helped invent and popularize computing and the PC. I love the bigness and boldness of our bets. I love our people and their talent and our willingness to accept and embrace their range of capabilities, including their quirks. I love the way we embrace and work with other companies to change the world and succeed together. I love the breadth and diversity of our customers, from consumer to enterprise, across industries, countries, and people of all backgrounds and age groups.

I am proud of what we have achieved. We have grown from $7.5 million to nearly $78 billion since I joined Microsoft, and we have grown from employing just over 30 people to almost 100,000. I feel good about playing a role in that success and having committed 100 percent emotionally all the way. We have more than 1 billion users and earn a great profit for our shareholders. We have delivered more profit and cash return to shareholders than virtually any other company in history.

I am excited by our mission of empowering the world and believe in our future success. I cherish my Microsoft ownership, and look forward to continuing as one of Microsoft's largest owners.

This is an emotional and difficult thing for me to do. I take this step in the best interests of the company I love; it is the thing outside of my family and closest friends that matters to me most.

Microsoft has all its best days ahead. Know you are part of the best team in the industry and have the right technology assets. We cannot and will not miss a beat in these transitions. I am focused and driving hard and know I can count on all of you to do the same. Let's do ourselves proud.

Steve
Steve Ballmer has been with Microsoft since 1980 and became its CEO since January 2000, therefore overseeing both the rise and fall of Windows Mobile and Microsoft's tablet strategy, and its current move to be a devices and services company, which has been met with mixed success, with the services arm growing very strongly, while the devices side having a spectacular failure recently with the massive $900 million Surface write-off.
There has been calls for his replacement for many years now, with many calling him a better salesman than innovator, but Steve has presided over a very financially successful Microsoft with huge growth in revenue over the years. 
Steve's successor will be chosen by a committee which will include Bill Gates. It is not clear of his replacement will have the same passion for any of his old projects, including Windows Phone, with Microsoft considering both internal and external candidates.
Leading internal candidates include Kevin Turner, chief operating officer,Terry Myerson, executive vice president, operating systems and Julie Larson-Green, executive vice president, devices and studios.  A number of less high profile Microsoft executives which has contributes to the recent success of the company may also be in the running, with Dow Jones having a list of 6 candidates on their site.
So far the stock market has reacted positively to the news, with the shares up more than 6%.
What impact do our readers think this will have on Microsoft and Windows Phone? Let us know below.
See the official press release after the break.
REDMOND, Wash. — Aug. 23, 2013 — Microsoft Corp. today announced that Chief Executive Officer Steve Ballmer has decided to retire as CEO within the next 12 months, upon the completion of a process to choose his successor. In the meantime, Ballmer will continue as CEO and will lead Microsoft through the next steps of its transformation to a devices and services company that empowers people for the activities they value most.

"There is never a perfect time for this type of transition, but now is the right time," Ballmer said. "We have embarked on a new strategy with a new organization and we have an amazing Senior Leadership Team. My original thoughts on timing would have had my retirement happen in the middle of our company's transformation to a devices and services company. We need a CEO who will be here longer term for this new direction."

The Board of Directors has appointed a special committee to direct the process. This committee is chaired by John Thompson, the board's lead independent director, and includes Chairman of the Board Bill Gates, Chairman of the Audit Committee Chuck Noski and Chairman of the Compensation Committee Steve Luczo. The special committee is working with Heidrick & Struggles International Inc., a leading executive recruiting firm, and will consider both external and internal candidates.

"The board is committed to the effective transformation of Microsoft to a successful devices and services company," Thompson said. "As this work continues, we are focused on selecting a new CEO to work with the company's senior leadership team to chart the company's course and execute on it in a highly competitive industry."

"As a member of the succession planning committee, I'll work closely with the other members of the board to identify a great new CEO," said Gates. "We're fortunate to have Steve in his role until the new CEO assumes these duties."

Founded in 1975, Microsoft (Nasdaq "MSFT") is the worldwide leader in software, services and solutions that help people and businesses realize their full potential.