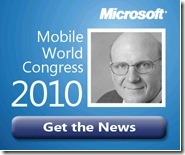 Microsoft has been doing it all it can to stage manage their Mobile World Congress event, including trying to to suppress all (of their own) Windows Mobile 7 leaks.
This effort included to not giving any indication to who will be speaking at Microsoft's MWC event on the 15 February.
Unfortunately it seems there was again some communication error inside the computing giant, and a banner has been popping up on the site advertising Steve Ballmer's presence at the event.
This, amongst many other things, is another indication of the importance of the event, and with the Windows Mobile 6.5.3 announcement out of the way, again raises the odds of Windows Mobile 7 being shown off.
Read more at MSMobiles.com here.