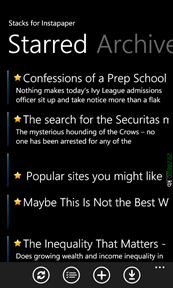 Stacks for Instapaper version 1.5 just hit Marketplace at the $2.99 price point. Still swift, smooth and thorough, and still the most feature-rich mobile implementation of the Instapaper platform outside iOS. Time to upgrade your copy if you haven't yet!
With 1.5 comes a frequently requested and major new feature: multi-selection. You can now conveniently use it with 2 new context menu actions: Archive and Delete.
This new release also brings automatic sync-on-startup for your Unread and Starred folders, along with a convenient server sync progress indicator.
Finally and for good measure, we added an orientation lock — makes reading in bed so much easier! — and many tweaks here and there for better overall performance.
For more details (including screenshots) and a trial version, head over to wp7wonders.wordpress.com/stacks-for-instapaper.