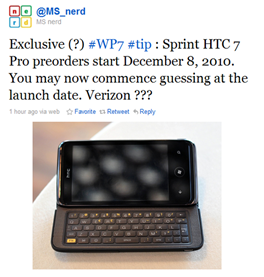 I think like most people I expected CDMA Windows Phone 7 handsets to arrive only some time towards the middle of 2011.
Colour me extremely surprised then by this new rumour, that Sprint will start taking pre-orders for the HTC 7 Pro as soon as December 8th. While this does not mean handsets will arrive by Christmas, it does allow Sprint in some way to partake from the free-spending spirit of the holiday season.
The source of the rumour is this tweet by perennial leaker MS_Nerd, but of course the recent approval by the FCC of a CDMA Windows phone 7 device does lend further support for the imminent arrival of the handset.
Via WPCentral.com
Thanks MobilePaddy for the tip.