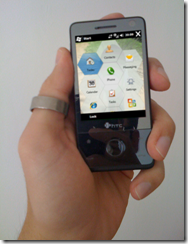 It seems to be rather unlikely, but Pocketnow has been tipped to an e-mail between Sprint customer services and a Touch Pro customer where he was reassured that this was in fact in the works.
Dear Brett,
Thank you for contacting Sprint. I understand your frustration and appreciate the opportunity to resolve your issue.
Currently, we are working to launch the Windows Mobile 6.5 upgrade for HTC Touch Pro.
Although, no official release date has been declared for the upgrade.
However, as soon as the upgrade is launched, we will inform our customers with high profile promotions.
I understand that there are lot of customers waiting for the release and I can assure you that our technical department is working hard to make it available soon. I appreciate your patience and understanding in this regard.
You can also visit the below hyperlink for more update regarding the updated software available for HTC Touch Pro.
http://softwarestore.sprint.com/products.php?id=2127&cat=91
We value your business and appreciate the opportunity to address your
concerns. Visit Sprint.com/mysprint if we can be of further assistance.
Sincerely,
Jaxon M.
Sprint
Of course in all likelihood the support person is either mixing up the WM 6.5 update for the Touch Pro 2 or does not know what they are talking about.
But then, who are we to squash faint hope?