A new Sprint Diamond ROM just leaked at PPCGeeks forums. The ROM seems to be an official test version of an expected upgrade, and according to the thread it includes Internet Explorer 6 (6on6) and the following features: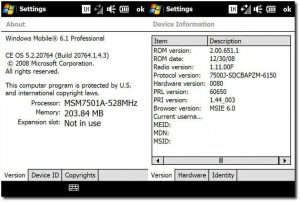 CE OS 5.2.20764 (Build 20764.1.4.3)
Radio: 1.11.00F
Opera 9.5 build 15306
new audiobooster
new audio manager
new camera
new dshow
new ezinput
new fullscreen player
new random access
new stream media
new rsshub
new youtube
Visit the PPCGeeks thread for the download links, but keep in mind that this is a CDMA ROM, so don't try to flash it on a GSM Diamond. If in the other hand you don't want to flash the Sprint's stock ROM, expect the updated drivers and applications in a custom ROM near you soon.