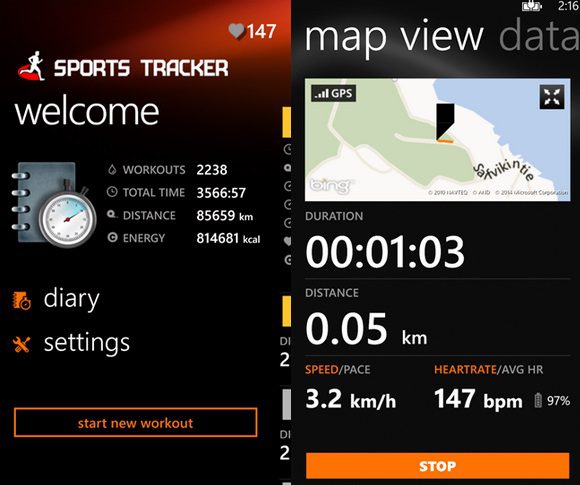 Sports Tracker app for Windows Phone 8 devices just got updated last night with lots of improvements. This update includes support for Live Tiles, Lockscreen, improved GPS accuracy and more.
Change log for v.1.0.1.10:
New WP8 GPS interface, which means improved accuracy
Facebook & Twitter sharing bug fixed
Live tiles
Lock screen data feed, even during workouts (has to be activated in phone's settings)
Settings from previous workout are used as default values when new workout is started
Lots of other fixes
Download it here from Windows Phone Store for free. Find the full change log after the break.

New WP8 GPS interface, which means improved accuracy
Facebook and Twitter status update fix
Added updating workout info to live tile (medium and wide tiles) and lock screen (has to be activated in phone's settings)
Settings from previous workout are used as default values when new workout is started
Made changes to buttons appearances
Added icons to workout type selection
Progress bar shows when synchronisation is ongoing, both in home and diary page
Fixed week information in diary
Fixed several problems with application tombstoning
Added not synced -info (visible only if workout has not been uploaded to the web service) to diary's and home page's workout lists
Added description to first workout in home page's workout list
Added missing paddling icon to workout summary
Fixed tracking page's last km pace unit to be pace unit (not speed unit)
Replaced current/average heart rate info with average speed/pace info in tracking page's data view
Fixed altitude's value in tracking page
Added delete button to workout summary
Enabled text prediction for workout summary's description
Update: Known issues with autopause:
Indicator not working
Speed doesn't always go to 0 even if autopause is functioning
Can take up to 10 seconds for autopause to react