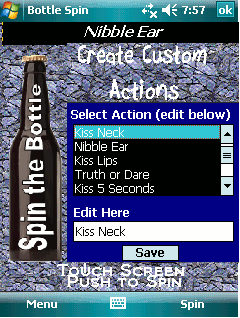 Lieber Software has revealed their application, Spin the Bottle 2.0, has hit 10,001 downloads in two months on the German Windows Mobile Marketplace.  The application, which took less than 12 hours to be coded on its first release, currently sells for $0.99, making it a pretty good return on investment for a night's work.
The developer notes the feedback from the certification process was accurate and helpful.
He has two complains however about the process, noting that Marketplace does not push out updates, and developers who do not have their headquarters in a marketplace country can not release apps in any marketplace at all.
Certainly here at WMPoweruser.com we can not understand why more developers do not place their legacy applications in Marketplace. We can understand not making a huge investment on new apps, but $100 for 5 apps is a pretty small bet with the potential for a pretty big pay-out, especially now while the Marketplace selection is still small.
Read more at the lieberlieber blog here.
Do any other developers have any Marketplace success stories to share?  Let us know below.