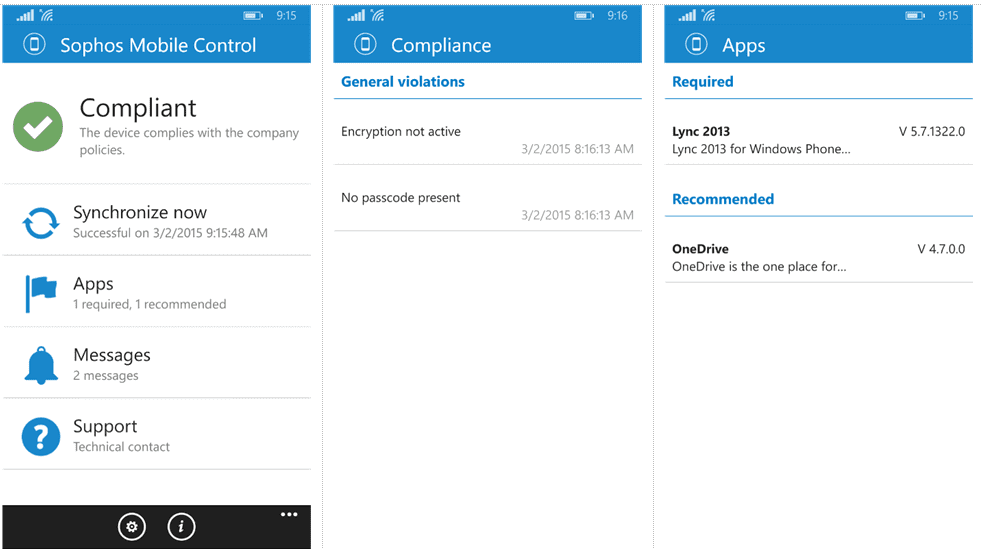 Sophos Mobile Control is an Enterprise Mobility Management (EMM) solution which allows enterprises to easily manage, control and secure Windows Phone, iOS and Android devices from a single web console.
In version 5 of the server software Sophos has added new policies and features to support Windows Phone 8.1 including:
Pushing out configurations is now possible
Additional restriction can be configured

Forbid action center notifications above lock screen
Forbid adding of non-Microsoft accounts manually
Forbid developer unlock
Forbid Windows store
Forbid native browser
Forbid camera
Allow or deny sending of telemetry data
Forbid copy and paste
Forbid Cortana
Forbid Save as of Office files
Forbid screen capture
Forbid sharing of office files
Forbid "Sync my settings"
Forbid voice recording
Forbid Wi-Fi
Forbid internet sharing
Forbid auto-connect to Wi-Fi Sense hotspots
Forbid hotspot reporting
Forbid manual configuration
Forbid NFC
Forbid Bluetooth
Forbid USB connection
Forbid cellular data roaming
Forbid VPN over cellular
Forbid VPN roaming over cellular
Forbid Bing Vision to store images from Bing Vision search
Forbid use of location when searching
Forbid manual installation of root certificates
Forbid locating
Forbid user to reset the phone
Forbid manual MDM unenrollment

Wi-Fi configurable
Device lock and unlock can now be triggered by the Sophos Mobile Control server
Windows Phone is increasingly significant as a enterprise operating system, and good support by Mobile Device Management services is essential to the growth of the operating system in this arena, making Sophos's extensive support for WP8.1 policies very helpful.
Read more about the newly supported features at Sophos here.