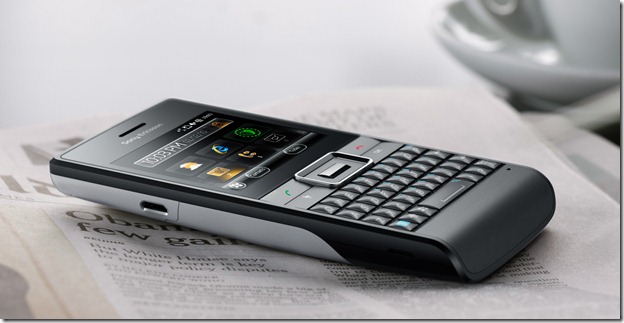 The newest edition to the Sony Ericsson GreenHeartâ"¢ portfolio, Sony Ericsson Aspenâ"¢, has just been announced. The second handset to be officially released with Windows Mobile 6.5.3, after the Garmin Nuvifone M10, the device features a curved  design which is meant to fit your hand perfectly.
"Sony Ericsson Aspen™ is the business phone with a conscience, perfect for any consumer or company who want to make a green choice in their daily work life." Said Quentin Cordier, Global Marketing Manager, Sony Ericsson. "An affordable GreenHeart™ phone with the latest version of Windows Phone, the Sony Ericsson Aspen™ has a rich user interface and powerful productivity tools. But it's not all about work, stay in touch with the fun parts of life with Media Browser and PlayNow ™, with simple access to social networks and quick and easy access to media files. Find the fun with a-GPS, Google Maps™ and snap pictures with the 3.2megapixel camera."
The smartphone has a 3.2 megapixel camera, 3.5 mm headphone jack, FM Radio, WIFI, microUSB charging and features a 2.4 inch QVGA resistive touch screen. The handset is 117 x 60 x 12.45 mm large and weighs 130 grams.
Unusually the phone comes with Skype pre-installed and features Sony Ericsson's trade-mark Panels interface.
The Sony Ericsson Aspenâ"¢ supports HSPA 900/2100 and EDGE 850/900/1800/1900, HSPA 850/900/2100 and EDGE 850/900/1800/1900 and available in selected markets from Q2 in the colours Iconic Black and White Silver.
Read more at Sony Ericsson here.