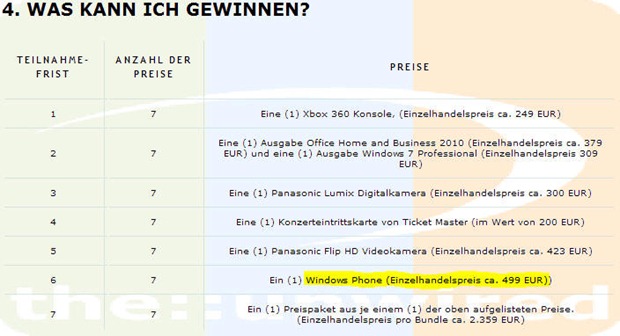 One thing we know for certain – until Microsoft releases an updated chassis with HVGA screens, there will not be any low-end Windows Phone 7 devices.  All will have large high resolution screens, gigahertz processors and at least 5 megapixel cameras with flash.
This does of course raise the question of how much these phones will cost unlocked.
Above we a screen shot noticed by the::unwired.net for a raffle run mu Microsoft, who notes Microsoft estimated the worth of the Windows Phone 7 device they are giving away at $499 Euro unlocked, which comes to about $650 US.
That number brings it below the launch cost of the HTC HD2 for example, but of course far from the cost of a very low end smartphone.
What do our readers think of the cost?  Is it affordable? Let us know below.
Via Pocketnow.com