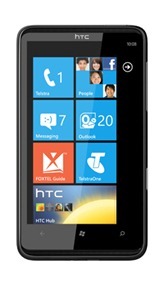 A large number of HTC HD7 owners are complaining that their device locks up during music playback, requiring the battery to be removed to get the phone working again. The issue appears to be related to Zune music in particular.
Users are complaining in droves on the Microsoft Answers website, where Microsoft seems to be blaming the Mango update.
The problem is described by Islehopper as below:
1. Phone Manufacturer: HTC
2. Phone Model: HD7 (hardware version 0002) Original 16Gb Storage (not user modified)
3. Mobile Operator (Taiwan GSM)
4. Phone Operating System version (Mango 7720 upgraded by HTC Taiwan 9/16/2011)
5. Zune software version: 4.8.2345.0
6. Computer Operating System version: Win7 Ultimate SP1

Problem: during playback connected via 3.5mm jack to car audio system, Sonos box, wire or wireless headphones randomly locks up between songs. 

Occurs during playback of both drm-protected Zune Pass media and drm-free mp3's.

Work-around: Must remove/replace battery to restart Windows Phone.

Problem is not new to the 7720 Mango ROM. Have had problem since first purchased HD7 phone in February. Zune Pass started March 2011.

Problem has been frequently reported on HTC, Samsung and Dell devices. (google search: wp7 freeze zune playback)

If running a 2nd program in background (like "marathon" app), I can listen to Zune for at least 1 hour with no problems. Marathon is a GPS tracker that allows Zune to play while recording GPS data. Without Marathon running, Zune appears to go into a deep sleep mode that prevents Zune from checking DRM and locks up the phone.

Extremely annoying and ruins user experience. Zune is a fantastic product — Zune on PC + Zune on WP7 is an extremely attractive alternative to iPhone/iTunes.

Like many others experiencing same problem,if not resolved soon, will see significant attrition in 1-year Zune Pass subscriptions, including myself.

Let me know if any further information needed to address problem.

** One additional Note: AC connection prevents the problem. This is reproducible ***
The problem is likely some kind of power management problem, and users at the Microsoft site are getting pretty antsy for a solution, which has been very slow in coming.
Are any of our readers similarly affected? Let us know below.
Thanks Ricky for the tip.