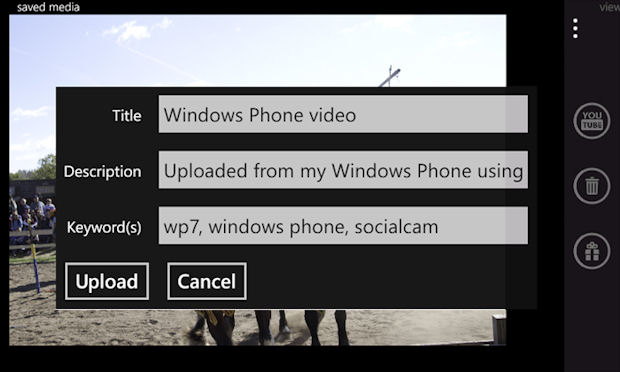 Have you ever used your Windows Phone as a video camera, only to find yourself stumbling across HOW to share the video afterwards?
Do you e-mail it to yourself? Only if it's not too big.
MMS it to a friend? Sorry, WP7 doesn't support that.
Upload it to Youtube? Sorry again, no support for that in WP7. Unless of course you e-mail it, if #1 isn't stopping you 🙂
Enter Social Camera. Use it as your video camera and you can upload directly to your Youtube account, then share the link to the video with your friends!
If you elect to purchase the app, you can post the link to all the social media sites (Facebook, Twitter, Windows Live, LinkedIn, etc) that you've connected to your Windows Phone account, or you can copy the link to the clipboard and do whatever you want with it!
In the trial (free) version, you're limited to copying the link only, and there is an Ad Bar at the top of the viewfinder, playback, and settings screens.
So what are you waiting for? SHARE the videos you take of your friends & family with Social Camera!
Here's what we have on the docket for future releases:
Upload to Skydrive
Upload to Youtube as Private
Change Youtube details after upload
Truly background transfers (no need to leave the app running)
Relevant links: In the Marketplace Social Camera blog