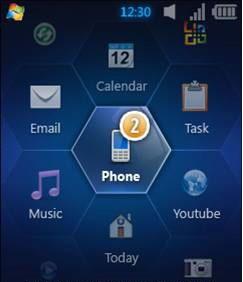 With the inevitability of Windows Mobile 6.5 hitting a device in your very own hands in the not so distant future, the exictement of something new always makes questions arise. Certainly with WinMo 6.5 on the brink, there will be some new features we will like, and maybe some we won't. What about our beloved Start Menu?
An article was brought to my attention that may be a bit of a rant,  but also makes a valid point or two about the importance of the almighty Start Menu we have been using on our current OS, and how the changes in OS 6.5 may affect the use of our handsets.
Lets get to the point. Multi-Tasking is a tremendous advantage of Windows Mobile, and the Start Menu plays a big role in the OS abilities to help maximize that strength. The article suggests, among other things, that the new start menu will impede usability by not offering the last five applications used. Valid point.
Personally, I do not find the current start menu exactly finger friendly, but it works. Quite well, I might add. Obviously Microsoft is trying to give 6.5 a fresh look and maybe make the device easier to use with one hand. Lord knows WinMo needed an overhaul, but certainly not at the sacrifice of its usability. So what is the middle ground here? Salvage a feature off of the "old" OS, or were the current cosmetic deficits of WinMo a greater danger to the OS itself?
So what are your thoughts on this matter? Do you like the current Start Menu, or are you ready for the new one? It should certainly make for good discussion in the comments section. Take the jump and tell us what you think. Seriously. We want to know.
Go here for the original article.