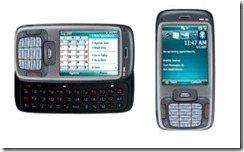 The Verizon SMT5800 has been released so long ago I had trouble recognizing the code name.  However, thinking back now, it was a pretty innovative device with its combination on front-facing keypad and slide-out keyboard.
For owners who are still tied to the device with a 2 year contract, you will appreciate the recent arrival of a Windows Mobile 6.1 update to the device.
The update brings some new features also, including GPS and EVDO Rev A support. The handset now also supports Verizon Navigator.
This is a clear example of better late than never, so hop on over to Phonenews for the download.
Are you still using this device?  Let us know your experience below.