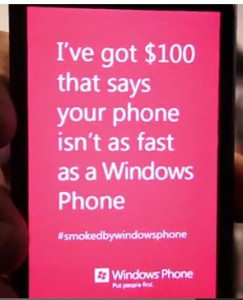 Microsoft has said they intend focus on increasing market share over the next 12-18 months, and the key will be marketing.
"The next year to 18 months is really about seeing a significant uptake in market share," Aaron Woodman, the director of Windows Phone, said in an interview at the Mobile World Congress in Barcelona.
"It doesn't feel like we're really pushing apart from the competition," Woodman said. "We need to go pick a fight."
The key will be the Smoked by Windows Phone campaign, which will be coming to a variety of online and traditional media over the next 6 months, and demonstrates the ethos of Windows Phone – doing common tasks faster and with less fuss.
"We'll do TV spots, the question is where," Woodman said
He declined to specify an advertising budget however. "Microsoft is patient and willing to use deep pockets, but we're also respectful of shareholder value so we want to pick appropriate countries and spend levels."
Which countries do our readers think will benefit most from Smoked by Windows Phone ads? Let us know below.
Via Bloomberg and WPCentral.com