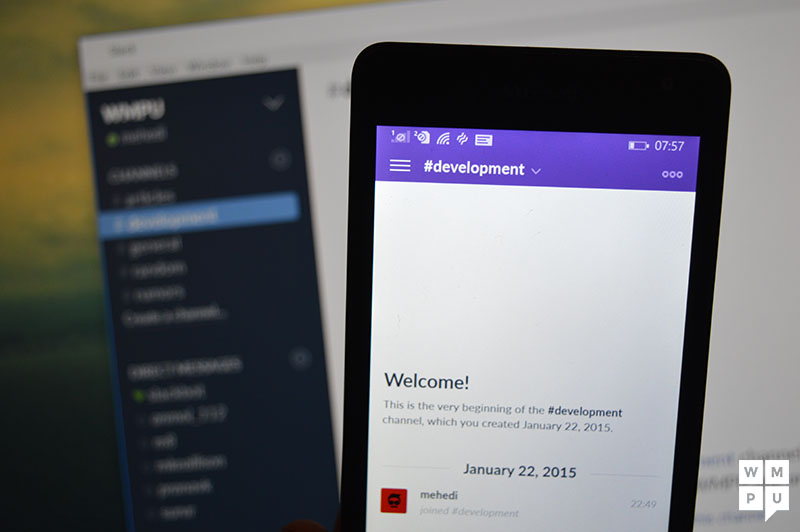 Slack beta app for Windows Phone devices today got updated in Store to 2016.301.0.0.
The update is a minor one and addresses bugs introduced by the last big update.
Slack notes:
Some bugs snuck in to the previous release. We've wheedled them out again.
The last update was rather massive polishing of the app to improve performance and fix many bugs.  It was released on the 26/2/2016 and the full changelog can be read below.
Change log:
WHAT'S NEW

The engine at the heart of the Windows Phone App is ready for its first public roar. Like most engines it might not look like much, but every nozzle has been buffered and every piston twinkled within an inch of its… fine we don't know anything about engines. But the app has had performance enhancements, an overhaul and a lot of hard work.

WHAT'S FIXED

Fixed: In rare cases users would get endless loop while loading. We improved our loading you shouldn't get stuck anymore.
Fixed: Some notifications didn't lead to the message they were notifying you about. Honestly: They had ONE job. They now perform it.
Fixed: Text predictions for comments on uploads now work as expected.
Fixed: The nagivation has been tweaked so we remember where you came from, and where you want to go.
Fixed: Anyone carrying out a tricky combo of actions risked seeing an old error message when signing in after trying to with invalid details. Folks in this unfortunate quandary at least deserved a shiny new error message (but we fixed it instead).
Fixed: Sometimes, in an unfortunate case of The Mornings, the app would show an error message when waking from a dormant state. No more.
Fixed: A thorough flushing of the pipes means you should see fewer error messages overall.
And multiple performance enhancements mean we've cut down on the amount of time you should spend staring at infinitely spinning spinners. Because nobody likes infinitely spinning spinners. Or even ones that you suspect might be infinite if you had the patience to find out.

Known Issues

WM10 most likely still have notification issues where they sometimes don't trigger a change of channel.
Download Slack Beta for Windows Phone from the store link below.
Developer:
‪Slack Technologies Inc.‬