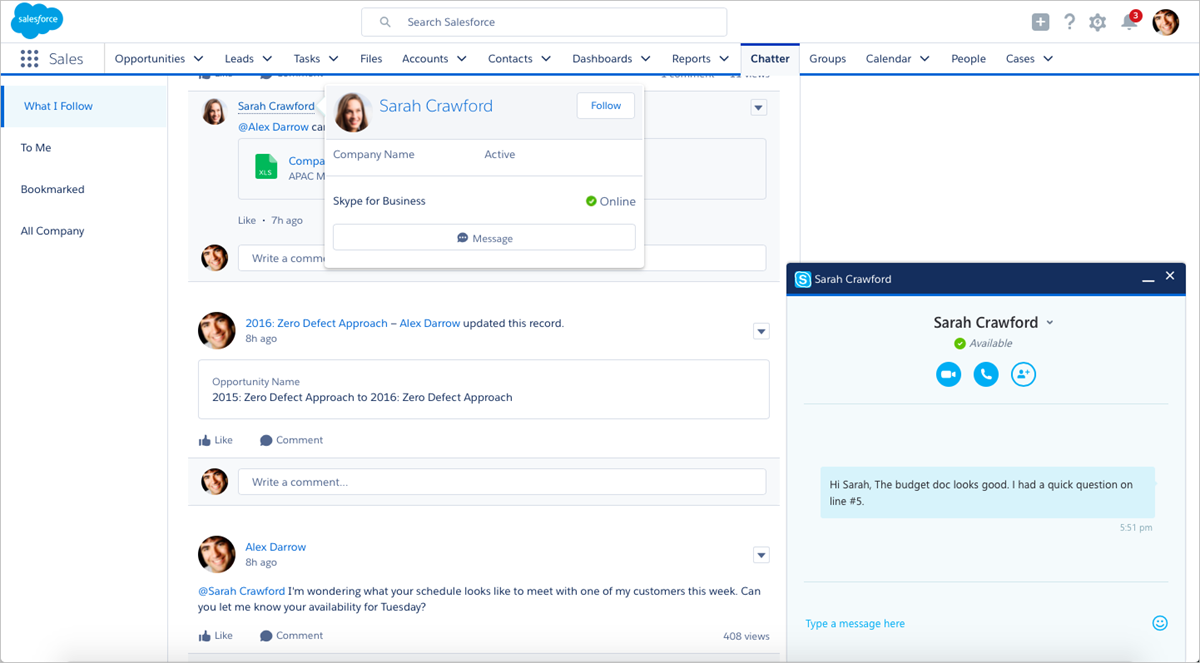 Microsoft's Skype Web SDK enables developers to build web experiences that seamlessly integrate presence, chat, audio and video by leveraging Skype for Business services and the larger Skype network. Skype for Salesforce brings features of Skype for Business Online directly within Salesforce to give sellers the ability to communicate in real-time with colleagues straight from the Salesforce Lightning Experience.
Simply hover your mouse over a name in the activity timeline, a record or a list and you can immediately see whether a coworker is online and available. The ability to see a person's status, within the context of a CRM activity, allows you to choose the most effective form of communication.
For example, if you need feedback on an action and that person is on a call, an email may be appropriate, but if that person is available, you could get an instant response via chat. You can start a chat, voice call or video call with a single click and without the need to switch to a different application.
Microsoft today announced that Skype for Salesforce is now available beta to all customers with Skype for Business Online and Salesforce Enterprise or Unlimited Edition. Users can chat using Skype for Salesforce on any supported browsers for Lightning Experience, but audio and video calls are currently only supported for Microsoft Edge and Apple Safari. Microsoft is working on support for additional browsers, including Chrome and Firefox.
Find more details about enabling this feature here.