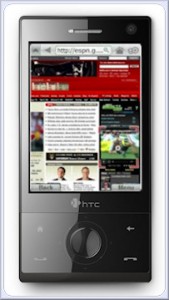 MobileCrunch has interviewed Tracy DeMiroz, the VP of Marketing for Skyfire. Besides answering many questions of less interest to us regarding platform expansion, some interesting information emerged.
Questions regarding their business model are of course a concern to us all – transferring all that data can not be cheap, and it would not be in our interest if they suddenly disappeared.
Tracy answered:
As we get ready to get towards 1.0 we'll be announcing more details specific about that. There are definitely proven business models around browsers, around search. In regards to our differentiators, and what we're able to do as a browser, we are seeing that we're driving a lot of search. A lot of browsing begins with search, and it really plays to our strengths.
Regarding the expansion of the service when Skyfire dropped its US-only registration policy, Tracy said the service expanded 7-10 times, suggesting a huge untapped demand for a good browser outside of USA. Tracy went on to say that, after solving the multimedia content delivery issue, the next issue they were addressing was the overall usability of the platform.
One of the main issues which are on the mind of all users of the Skyfire browser is privacy. Tracy addressed the issue thus:
That's taken very seriously here. There's no personal information stored about a user, we use the industry standards for encryption, and after each session we tear down and clean up the proxy. There are a lot of mechanisms in place across all of the touchpoints involved to keep our users data secure.
This would be very reassuring to used who use the browser to do banking or visit possibly less "wholesome" websites.
Read the full interview at Mobilecrunch here.