Some devices, like the iPhone, have pretty deficient Bluetooth stacks, and have had to come up with pretty creative ways to share files.  One app which allowed this is called Bump, which paired devices which were shaken at the same time.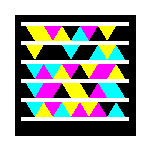 Jaxbot over at XDA-Dev has implemented the idea as seen on this video.  The software uses the G-sensor to detect the shakes, but can also be used manually on devices without, and uses a data connection for the pairing and sharing process.  Jaxbot intends to implement photo sharing also, and to improve the already nice looking UI.
Read more about the app at XDA-Developers here, and download the app here, or using this Microsoft Tag (gettag.mobi) (links to mobile download page).