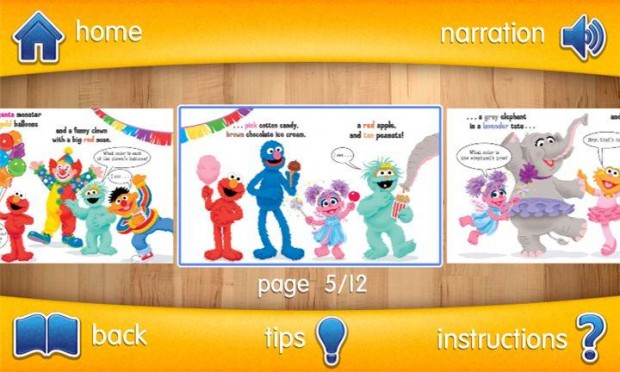 Sesame Workshop, the non-profit educational organization behind Sesame Street and so much more has started releasing their interactive read-aloud content experiences for Windows Phone devices. There are already three apps in the marketplace from them.
Join Elmo in an interactive read-aloud experience!

Romp through every color of the rainbow and many more, as Elmo and friends visit a very colorful carnival. They call out many colors and also invite toddlers to find and name others that aren't mentioned, making this color-filled book both fun to read and a learning experience as well.
Join Elmo in an interactive read-aloud experience!

There's a block party on Sesame Street and all the guests must bring their favorite healthy snacks. Readers follow Elmo as he helps his friends make unique snacks. A special buddy of Elmo's inspires his snack. When they are done reading, young cooks can use the included recipes to make all the snacks their Sesame Street friends made. All recipes are simple and safe for kids to make with parental supervision.
Join Elmo in an interactive read-aloud experience!

Abby Cadabby falls asleep and follows the Red Rabbit (Elmo) down a rabbit hole into Wonderland, where she encounters quirky and whimsical characters including the Counterpiller and a Cheshire Cookie Cat. Then Abby attends a silly tea party presided over by a Mad Hatter (Grover)! Will Abby find her missing magic wand and be able to get back to Sesame Street, or does the Grouch of Hearts (Oscar) have other plans?
Each of the above app costs $1.99. Also if you own a Nokia Lumia Windows Phone device, get Color Carnival app for free here.