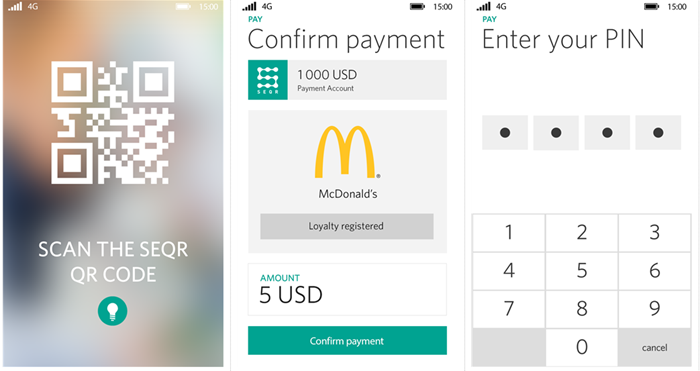 Momentum is building around mobile payments, if only to counter Apple Pay, with Portugal being the latest to support the SEQR mobile payments solution.
Going live on Christmas eve for iOS and Android, the service, which already has a Windows Phone app, will support Windows Phone in January next year.
SEQR will initially be supported in 500 stores in Portugal, including McDonald's, Company of Sandwich, Shop of Soups, Lanidor, Globe, NATA Lisbon and Science4You, but by the end of the first quarter, the goal is to reach the 1500 brands in Portugal, covering most of the retail areas, from books to clothes.
The system supports both QRCodes and NFC, is secured by a PIN and extracts money from your account via Direct Debit.
The app hopes to spur use by offering coupons, discounts and cashback to users
More than a form of loyalty, it "is a way to change the paradigm of payment," João Pedro Duarte, country manager of SEQR in Portugal. "There has to be constant incentives for people to get used to pay with your phone and is part of our business model to have a set of offers in which people make money when making the purchase."
Store owners are also incentivized to use the system by a 50% reduction in bank charges and no minimum bank charge, achieved by cutting out 3 intermediates in the payment cycle.
"You can pay a cafe with this system and the store does not resent you because they only pay the agreed percentage," says Duarte.
For 2015, the goal is that the payment system will also be available for car parks and petrol stations, he continued.
Besides payments the service also lets users transfer money to friends in their contact list, and will retain receipts of your purchases and spending.
See a video of the service in action below.
Via Dinheirovivo.pt, Thanks Rui for the tip.