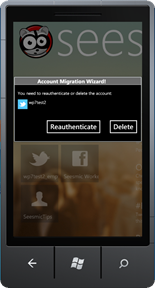 Due to changes in how twitter deals with direct messages Seesmic has announced that users have to repeat the OAuth process, initially by downloading the latest update of the software.
The update is to accommodate the changes in Twitter's permission levels to access Direct Messages, recently introduced by twitter to allow users to send direct messages to Authenticated Accounts without following the other user, and also the changes to the authentication process.
Seesmic made the news recently for dropping support for RIM's Blackberry OS, saying they wishes to concentrate on more popular platforms like iPhone, Android and Windows Phone 7.
See Seesmic's blog post here for full instructions.