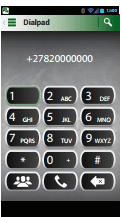 The Baltimore Sun reports that Seecrypt, an encrypted communication app, will be available for Windows Phone users before the end of the year.
The app, now even more prominent after allegations of wide-spread surveillance by the NSA has surfaces, provides secure encrypted messaging and VOIP phone calls to other Seecrypt users. The encryption is claimed to be "military grade".
The service is also expanding to offer encrypted voice mail, group chats and conference calls before the year's end. Seecrypt said users will also be able to send encrypted messages with attachments included, such as photos and videos.
The South African company offers free service for the first 3 months and then $3 per month afterward for unlimited calls and messages.
The service will also be coming to Blackberry and the Windows Desktop, bringing secure messaging, calls and attachments to that platform too.
Read more about Seecrypt here.
Do our readers feel the need for this kind of security? Let us know below.