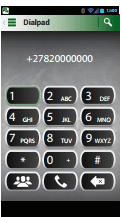 With Skype now belonging to Microsoft, who has been centralizing the distributed nature of the VOIP app, it has been increasingly difficult to make calls where users can be 100% sure they will not be overheard.
Seecrypt is an encrypted VOIP application that allows 2 users with the same app to make secure private calls to each other. The app already exists for iOS and Android, and in a recent FAQ the company has announced that they will be releasing a Windows Phone version of the app later this year.
The Seecrypt app allows one to make and send real-time, end-to-end encrypted voice and text messages using cryptology, key management and information security techniques. All data is encrypted on your device and each new session uses a different key. Seecrypt does not make use of a centralised Public Key Infrastructure, rather keys are generated on the device, using a cryptographically secure random number generator. This process of new key generation, without a central root of trust, is used in combination with two 256-bit cipher streams (RC4 and AES). Thus all communications are double encrypted, allowing the end-user maximum protection when making calls or sending messages to another trusted Seecrypt user.
The app works on a subscription basis, and costs only $3 per month, which does not seem too much if you really demand privacy.
Read more about Seecrypt here.