German start-up cameoNET has told 1800Pocketpc that they are planning to bring their secure messaging app to Windows Phone in November this year.
cameoNET's slogan is "Simple and secure communication – made ??in Germany" and it offers privacy without compromise.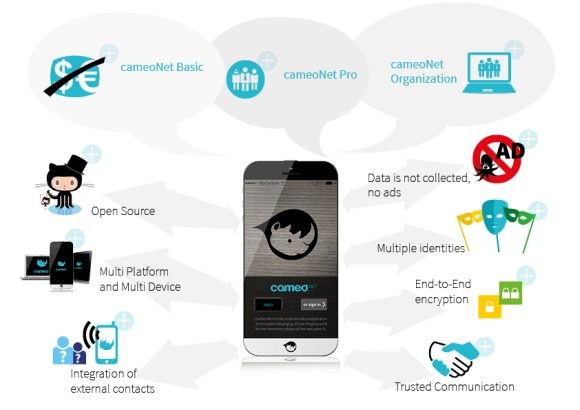 The open source app lets users create accounts with only a user name and password, with no email address or phone number needed, and even cameoNET can not decrypt messages sent via their servers, with users needing to exchange decryption keys via other means.
CTO Michael Merz said:
"To underline the quality of cameoNet, we are Made in Germany as well as Open Source. We are present on all devices; anyone can join us and reach all of his or her contacts, even the anonymous usage is possible. Everyone is invited to compare ourselves against prominent competitors like WhatsApp, Threema and Telegram."
The app is multi-platform, soon to include also Windows phone and uses the freemium model to monetize – the basic service is free, but users may be asked to pay for more advanced features such as archiving messages. cameoNET is intentionally not using the advertising model, and specifically do not want to collect data on their users.
Read more about the coming service at cameoNET.de here.