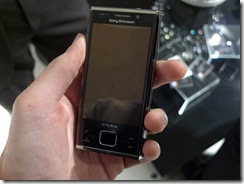 There have been some rumours the the Xperia X2 will be coming to shopping shelves only next year. Mobinate was able to confirm that the device will be hitting the French market much sooner, in November this year.  The price was also confirmed at 600 Euro:
Asked by Mobinaute.com, Sony Ericsson said the Xperia X2 will be marketed in France in November with a Windows Mobile 6.5 for a price of 600 EUR before subsidies or operator.
Read more at Mobinaute, who also have many photos of the device.