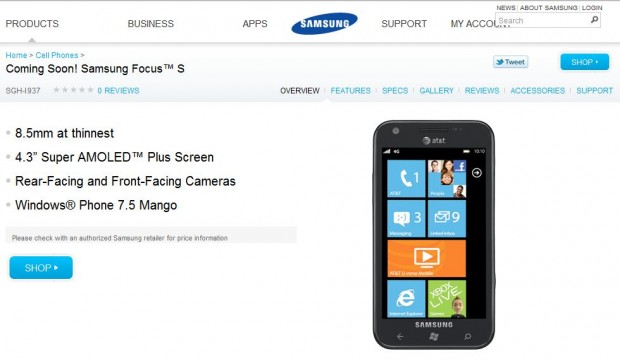 The Official Samsung website was updated recently to include the Focus S and Focus Flash, two new upcoming Windows Phones.
Nothing extremely new is revealed from their website other than the complete dimmensions info and weight info for the two phones. However, the dimmensions for the Focus Flash match exactly with the Omnia W, which tells us that Samsung will finally be releasing the same device in both United States and Europe, rather than what they did with the original Focus and Omnia, where there were two different designs.
The Samsung website also has a new image gallery featuring the front, sides, and back of the phone. Visit Samsung's Focus S or Focus Flash page to view the new images.
The Samsung Focus S is an upcoming Windows Phone with a 4.3" S-AMOLED Plus screen, HSPA+ data speeds, and a 1.4 GHz single-core processor. The phone has an 8-megapixel rear camera, a front-facing camera, gyro sensor, and is only 8.5 mm thick. Storage size and release date is currently unknown, but the phone will definitely be coming to the United States through AT&T. The Focus S currently does not have an Omnia sibling. Full specs…
The Samsung Focus Flash is an upcoming Windows Phone with a 3.7" S-AMOLED screen, HSPA+ data speeds, and a 1.4 GHz single-core processor. The phone has a 5-megapixel rear camera, a front-facing camera, gyro sensor, and 8 GB of storage. Release date is currently unknown, but the phone will definitely be coming to the United States through AT&T. The Focus Flash will be released as the "Omnia W" in other countries. Full specs…