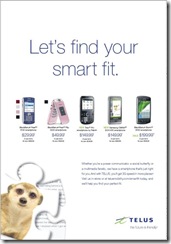 We have just received news that the Samsung Omnia, the be launched soon on Telus and Bell, will be going pretty cheap on Telus.
This screenshot (click for larger version) taken from the local Metro news paper shows the device being sold for on $499 Canadian, which comes to a bit less that $400 US completely unlocked.
The price on a 3 year contract is $149, but i think at these prices, why lock yourself in?
Thanks RileySfreeman for the tip.