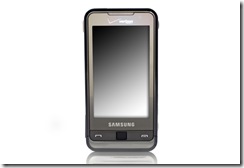 PCWorld has published its regular list of top 10 smartphones, and while their list is a bit strange (since when was the MotoZine and Sidekick smartphones) we are hardly going to complain when the Samsung Omnia, ranked in 3rd place, is well ahead of the 6th ranked iPhone.
PCWorld as this to say about the Omnia.
Samsung Omnia

The sophisticated Samsung Omnia has almost everything you could want in a smart phone. Its assets include an elegant design (including a chrome finish and a black matte plastic back), a beautiful 3.2-inch touch screen, very good call quality, support for Verizon's 3G network, and a good selection of software (notably, the mobile version of Microsoft's Office suite).

Still, it's not perfect. For starters, the Omnia lacks a standard 3.5-mm headphone jack and a physical QWERTY keyboard–the latter omission exacerbated by a mediocre predictive text entry system. In addition, Samsung's TouchWiz interface performed a bit sluggishly. Despite these flaws, though, the Samsung Omnia is a high-quality handset that delivers a generous array of features.
Of note is that it also ranks well ahead of the Blackberry Bold and Blackberry Storm too.
See their full list here.