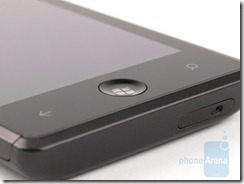 After GSMArena's review, PhoneArena have now also published their review of the Samsung Omnia 7.
While the handset achieved a score of 8.5 our of 10, they had some issues with the volume of the earpiece, and felt the handset was let down by the 24 frames per second 720 p video recording.
They concluded:
All in all, the Samsung Omnia 7 is a very feature-rich smartphone, which also comes in a dandy casing. Its almost all-metal body exudes a premium feel, while the stylish looks automatically make it a tempting offer that can easily compete with the rest of the initial Windows Phone 7 squadron.

Hardware-wise, it is the same as any other WP7 device right now with a 1GHz Snapdragon chipset and a giant capacitive touchscreen. However, the display is of the Super AMOLED type, which helps it score some bonus points for having an incredibly high contrast and lush colors. And how can you take advantage of such a brilliant screen? Through (multi)media, of course! The display makes the Omnia 7 great for watching 720p videos, photos, explore websites, etc. On the other hand, bear in mind that smaller text is a bit harder to read than it is on an LCD screen, while the call quality is a disappointment.
As for the operating system the Samsung Omnia 7 runs, we are sure that it does have potential. It lacks some basic stuff like copy and paste, or true multitasking, but its fluidity and visual presentation make up for that for the most part, at least for the time being. Of course, there is a lot that can be done in order to make the overall experience better. For example, the Office capabilities should be much more advanced, while the available application base needs a significant boost, although we appreciate its decent start at 1000 titles. Support for turn-by-turn voice guidance is also needed.

With Microsoft setting some strict hardware rules, defining what a Windows Phone 7 should and should not be like, the Samsung Omnia 7 inevitably ends up being a top-shelf smartphone that sees competition only from the likes of the Apple iPhone 4, the Samsung Galaxy S line or HTC's EVO 4G (Desire HD for the EU). However, since these are all devices with similar capabilities, one will probably make a decision based on OS preference. As far as we are concerned, Windows Phone 7 is a market-ready OS, which has its pros and cons, but one thing is for sure – Microsoft will have a hard time popularizing it and making customers believe that it can be a worthy replacement of their iOS or Android phone. But then again, every beginning is hard.
Read their full 5 page review here.