TouchWiz 2 vs TouchFlo3D 2.5
The two big boys of the Windows Mobile World is unquestionably Samsung Omnia 2 and the HTC HD2. I am sure our readers know the specifications very well, but as a quick recap the main differentiating features is the 3.7 inch resistive AMOLED screen on the Samsung Omnia 2 vs the 4.3 inch Capacitive TFT screen on the HTC HD2, the 800 Mhz older ARM processor on the Omnia 2 vs the 1 Ghz new generation ARM Snapdragon processor on the HD2 and and the TouchWiz 2 UI on the Omnia 2 vs the TouchFlo3D on the HD2.
 AreaMobile.de has a collection of photos and screen shots showing off the two giants.
The HTC HD2 is 121x67x11 vs 118 x 60 x 11.9 mm for the Samsung Omnia 2.  Strangely that extra 1 mm on the Omnia 2 seem to make a big difference in the appearance of the device, while the HD2 is clearly a much broader, less phone-like device than the Omnia 2.
Of course the big difference between the screens, besides being capacitive vs resistive, is the different display technology.  The Omnia 2's screen is clearly a lot more vibrant than the HTC HD2's, and may be a deal breaker or deal maker for some.
Interestingly Samsung's skinning of Windows Mobile is in some ways deeper than HTC's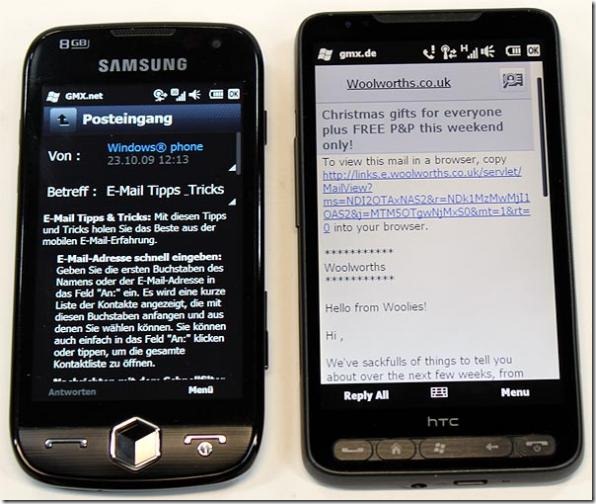 As can be seen from the above pictures, Samsung's mail client is skinned more deeply than HTC's, and this extends even into other applications like Marketplace, which we would not normally expected to be affected. This makes for a more consistent experience.
This last screen shot shows how some of Samsung's applications also seem more usefully developed than HTC's, even though HTC's version may look prettier.
See 30 more screenshots at AreaMobile.de here.