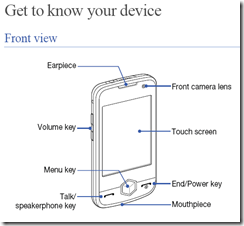 The Samsung Omnia 2 is now very close to market, and so soon all its secrets will be revealed.  If you cant wait however Samsung has now made the manual of the hotly anticipated device available for download.  Unfortunately there are only a few screen shots in the 8 MB pdf, but many of Samsung's extra applications are described in detail.
One particularly interesting application is the video editor, which appears almost desktop-class in its features, with much more than the iPhone 3GS's paltry ability to just trim the video.  The Omnia 2's app can stitch multiple videos together, create a story board, add audio files and dub audio commentary, add subtitles and even transitions.  Now that is what I call a video editor!
See the manual embedded after the break or download from Samsung here.