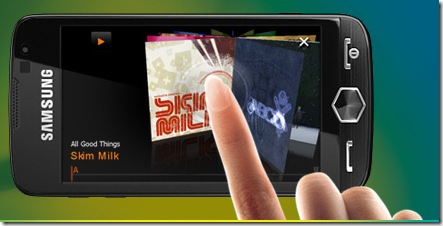 Following the huge success of the Samsung OMNIA in 2008, Samsung Electronics Australia today announces the next generation Samsung OMNIAICON. This new and improved touchphone is even smarter and more responsive offering all the latest features to take your work and play to the next level of sophistication.
Providing all the functionality you have come to expect from the Samsung OMNIA like a quality display and technical prowess, the Samsung OMNIAICON provides an upgraded navigation experience by combining Windows Mobile Professional 6.1 alongside Samsung's easy to use TouchWiz interface. The Samsung OMNIAICON will also be updatable to Windows Mobile 6.5, when it launches later this year, keeping you up to date and ensuring the technology is future proof for maximum satisfaction into 2010.
Bringing the best out of the Windows Operating System, the Samsung OMNIAICON features lightning fast internet speeds and Wi-Fi, making business quick and convenient to conduct. Whether it's  email, editing Microsoft documents or keeping up with colleagues and friends, the  Samsung OMNIAICON makes mobile work infinitely more simple. Multitasking is also fun through 3D effects, larger on-screen icons and responsive touch feedback, allowing for faster and more accurate touch commands.  The Samsung OMNIAICON also retains loved OMNIA features like 'Smart Reader' which enables you to scan business cards and other images into documents enabling you to save precious time and avoid tedious manual data entry.
Not just for work, the Samsung OMNIAICON helps ease the frustration of songs that linger in the back of your mind using the 'Midomi music recognition' application. The ultimate music search tool goes beyond just letting you record a clip of a song and is now also powered by your voice – sing, hum, or whistle a tune, send it to the server and have the artist name and title of the song sent back to you within seconds!
Featuring an industry leading display equipped with a huge 3.7" AMOLED (Active Matrix Organic Light Emitting Diode) screen and crystal-clear WVGA (480 x 800) resolution provides the great screen clarity that Samsung Mobile is becoming famous for, even in direct sunlight. The high quality screen makes emails, documents and the internet easier to read and offers vibrant colours and outstanding graphics when watching videos or playing the 3D games on offer.
"Samsung has built on the huge local success of Samsung's first Australian touchphone in the OMNIA with an enhanced experience to further cement our commitment to touch. The Samsung OMNIAICON has faster response times and improved ease of use, ideal for those who need to access office documents on the go," said Tyler McGee, Vice President, Samsung Telecommunications Australia.
The Samsung OMNIAICON will be available on Crazy Johns, Optus, Telstra and Vodafone plans from September 2009.
Read more at Samsung Australia here.