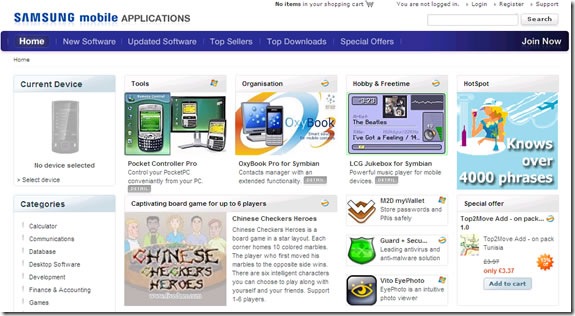 Samsung has announced the launch of its Mobile Application sore in UK, France and Italy on the 14th September, with more than 30 countries, such as Germany and Spain to follow soon after.
Over 300 native applications meeting Samsung's content guidelines will be available at launch, expected to grow to over 2,000 by the end of 2009. Gameloft, Electronic Arts, Handmark, TAITO, Paragon SW, Capcom, Com2us, Prompt, Pearson Longman, Bokan Tech and Diotek are among the providers of applications to the Samsung Application Store.
The on-device client is available in English, French and Italian and supports credit card and phone billing through the mobile application store. Users who haven't signed up as a member of the Application Store can purchase free applications and paid applications through the phone billing payment option.
Initial supported devices are the Original Samsung Omnia Omnia and I8910 Omnia HD, with the Omnia II I8000 and OmniaLITE B7300 soon to follow.