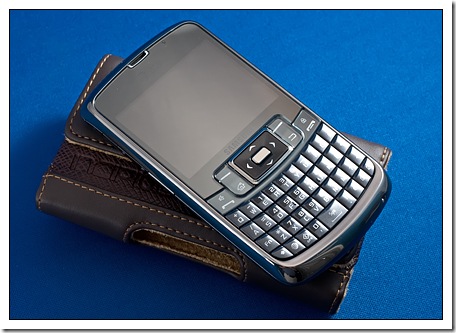 With all the excitement seemingly centred around touch screen phones, we sometimes forget that the vast majority of the market, both of dumb and smartphones, are of the non-touch variety.  One only has to look at the success RIM is having with the Blackberry Bold and Curve, or Samsung with its Blackjack series, which remains some of the best selling Windows Mobile phones, to know that non-touch screen phones are far from irrelevant.
Enter the Samsung Jack, Samsung's latest in its series of Windows Mobile Standard messaging phones. The device is well specified, and seems in some ways to be a refinement of the series, with many of the issues, like the difficult D-pad with the older devices and unusual keyboard design seemingly improved much for the better.
WMExperts has published a full review of the AT&T smartphone and came to this conclusion:
The more I used the Samsung Jack, the more I like it. Build quality was good and the phone feels comfortable in the hand. The only design nit I would pick with the Jack is that the volume keys and power button needs to be easier to access and manipulate.

The keyboard is smaller than similar phones such as the Samsung Blackjack II and Motorola Q9h. But then again, the Jack is a smaller phone. It did take some time to get used to the smaller keyboard, and I found it more receptive to fingertips than thumbs.

GPS, Bluetooth, and WiFi all are nice features to have on a phone, and the GPS receiver worked like a champ. I'm not a big fan of pulling up Media Net as your browser, but that was easily fixed by making Skyfire my default browser.

The Jack's biggest competition will likely come from the HTC Snap. The Snap (from what we know) should be a larger phone, which may give the Jack a slight edge with some Windows Mobile users. Additionally, the Jack will likely be priced under the Snap. Currently, the Jack costs $350 out of contract and $99 after rebates and a two-year contract. No word yet on the Snap's pricing but early over-seas pricing has it in the neighborhood of $500.

All in all, if you're looking to move to Windows Mobile Standard or replace that worn out Motorola Q or Samsung Blackjack, the Samsung Jack is worth serious consideration.

Pros

Quality Construction
Comfortable in the hand
Really nice screen
Speedy
Good Battery Life
Price

Cons

Volume and Power button a little testy
No 3.5mm headphone jack
Micro-SD card slot in a odd location
AT&T bloatware – hard to escape from it

Overall: 4.5/5
Read the full review at WMExperts here.