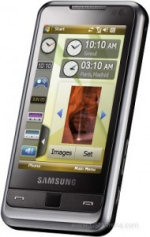 Samsung, aiming straight for the bling-bling crowd it seems, has renamed the Samsung i900 the Samsung Player Addict. In a press release they said:
"Conceived and designed as a kaleidoscope of experiences, Samsung Player Addict itself as the jewel mobile retraction. Not only because it gives a playful side to elegance, but also because the high-tech board meets all expectations. The newest Samsung illustrated by the richness of its functionality and multimedia communication:  3G+, WiFi, GPS, Windows Mobile 6.1, camera 5 million pixels, video recording, FM radio, MP3, DivX reading, onboard memory of 8 to 16 GB, a MicroSD port and a USB port, a high-capacity battery, a screen off 3.2", an optical mouse… all driven by a more intuitive interface signed by the research centre and development of Samsung."
The press release goes on to praise the easy-to-use, fluid interface and the great multi-media features.
Read the full press release at PPCReviews.net (Google Translation)