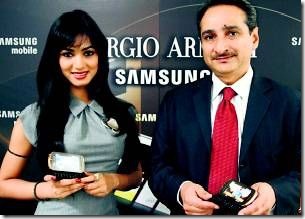 Samsung has launched the headlining Giorgio Armani Windows Mobile handsets in India. The premium handset was launched at an event attended by former Miss India and Bollywood actress Sonal Chauhan along with Ranjeet Yadav, director, IT and telecom, Samsung Electronics, at an event in Mumbai.
The tilt-screen device will launch with Windows Mobile 6.5 on board and of course features a 3.5 inch WVGA AMOLED screen and 5 megapixel camera. It also has 8 GB built-in and microSB expansion.
Giorgio Armani, President and CEO of Giorgio Armani S.p.A., commented: "Today more than ever, elegant dressing is part of daily business life. When Samsung asked me to design the new business and lifestyle smartphone I decided to use my fashion aesthetic to create it. I simply aim to create a smartphone which is not only an elegant tool but also functional and useful, perfect for today's managers. The result is a unique smartphone perfectly suited to every moment of one's business and private day. This is the Armani aesthetic – to combine beauty with function in a simple and timeless way."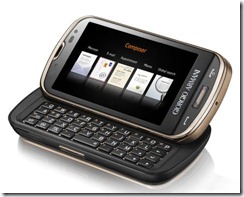 JK Shin, Executive Vice President and head of the Mobile Communications Division at Samsung Electronics, said: "We are delighted to have reached another milestone in the collaboration between Giorgio Armani and Samsung Electronics. This latest-generation mobile masterfully combines our experience in technology with a design from one of the world's best known designers, and the functions offered by Windows Mobile 6.5 operating system. What's more, the Giorgio Armani-Samsung smart phone is a demonstration of our commitment to offering customers cutting-edge technology in our products, along with exclusive design and fashion."
No price has been released, but the handset is expected to launch in the region of 50,000 rupees (around $1,100).
The handset is the result of the third collaboration between the phone manufacturer and fashion house.
Read more at Telecomtalk.info.
Via Fonearena.com