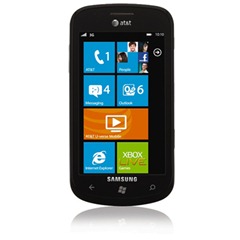 I bet no-one expected we would still be writing in May about the "March Update", but well, here we are.
It seems despite AT&T pushing out the NoDo update to Windows Phone 7 handsets on the network, some Samsung Focus users are still being told their 7004 phones are up to date.
After many phone calls to Samsung Support by forum poster D-Burrs it appears the reason has been revealed – Microsoft is pushing out the update in stages to different Focus hardware revisions, with Revision 1.3 already getting the update and Revision 1.4 not.
If you are still waiting for NoDo on your Samsung Focus, pop off the back cover of the phone and remove the battery. On the bottom right corner of the bigger of the two white stickers, you'll see the hardware build version. If it says Rev 1.4 then you may know why.