Gizmodo has nominated the Samsung Focus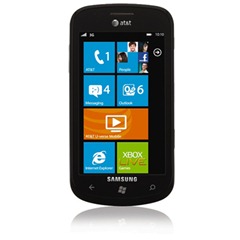 as the best AT&T smartphone for those who do not want an iPhone.
They write:
We can geek out all we want, but the best way to choose is a phone is not just by the hardware or the OS, but the phone and the carrier. Here's the smartphone to pick on each…for now.

• Best AT&T Phone: Apple iPhone 4 (June 7th, 2010) And for those of you who want to venture into Windows Phone 7 turf, we now recommend the Samsung Focus.

• Best Sprint Phone: HTC Evo

• Best T-Mobile Phone: The Nexus S (unless you still want a keyboard, then it's still the T-Mobile G2).

• Best Verizon Phone: HTC Incredible
Of note is that the handset is the only Windows Phone 7 smartphone on the list, and beat out the Android Samsung Captivate, also on AT&T. The Samsung Focus is also appears to be the most popular Windows Phone 7 handset in North America, and has also been named one of CNET's best smartphones of 2010, and likely deserves the plaudit for a number of reasons, including its excellent camera, screen and svelte form factor.
Via the windows team blog.