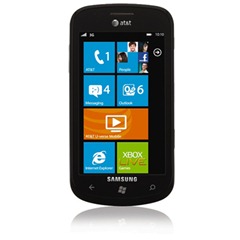 Samsung has held a twitter live chat with Microsoft focussed, on well, the Samsung Focus, and in it the company committed to address some issues with the handset, and also provided some reassuring information.
The confirmed the handset will support 32 GB memory cards, and recommended Class 2 cards as all that was necessary for adequate performance. The also responded to complaints that the handset's screen was not colour accurate by saying they would look into the issue. The spokesman also confirmed of course the card was not generally removable, and was best installed soon after the handset was purchased.
They also said they would look into the quality of the 720p recording (which I felt was already better than the HTC and LG versions). 
Of course they confirmed the OS does not support tethering, but on the plus side did confirm the handset had 512 MB RAM. Interestingly they said they were looking into a "dock-like" accessory for the handset, which may allow connecting the handset to a stereo.
Finally, they also confirmed Microsoft would be regular updates for Windows Phone 7, the first coming in the first half of 2011.
See the tweets involved here.