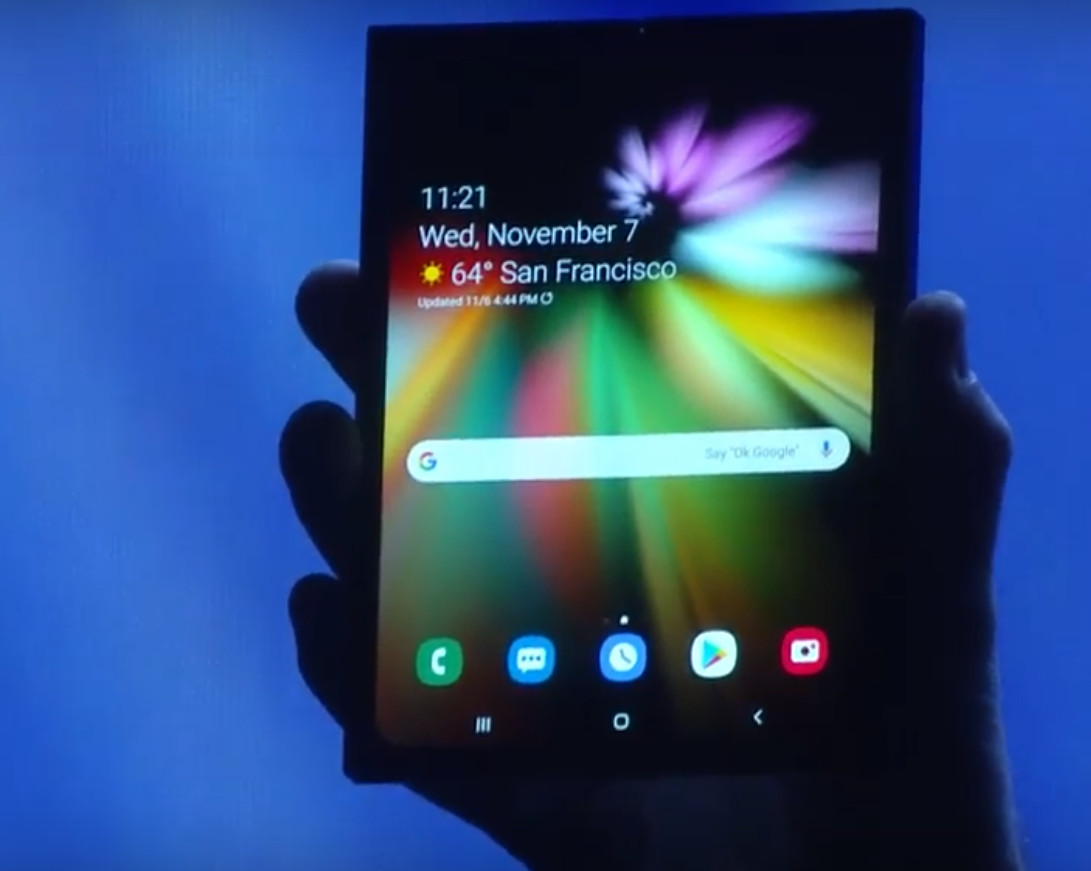 Last year at Samsung's developer conference, the company showed off their folding phone prototype, but did not say exactly when the phone will be going on sale.
The revolutionary product features a 7.3 inch internal flexible screen and a smaller screen on the outside, and includes additional technologies such as a dual battery.
Samsung is expected to test the market by only producing an initial batch of a million devices, and now DigitalTrends reports that a Samsung exec has confirmed the company is still on track to deliver the handset this half of the year.
They quote Suzanne de Silva, Samsung's director of Product Strategy and Marketing, that the phone is set to be released in the first half of 2019.
She also confirmed that the handset will use Samsung's Infinity Flex screen, saying:
What you're really seeing there is that people want a bigger display, right? That's the reason we got rid of the bezels. That's the reason we created the Infinity Flex, so that we can give consumers the biggest display.
Samsung has been showing off the handset to industry execs at CES 2019 with Korea's The Investor reporting on some of their impressions:
"When unfolded, Samsung's foldable phone does not show any crease indicating it had been bent," said one exec. "However, completely folding the device will lead to breakage. For this reason, Samsung is testing the device so that the sides remain slightly lifted when folded. The prototype seen today leaves a crease mark when being folded, but this issue will be fixed in the finalized version."
Reportedly the design does not feel thick when folded and offers a stable grip, while another said it felt when Nokia first launched its folder phone." Samsung's phone is "specialized for multitasking," he said, and would be "highly useful for people who own both a smartphone and tablet."
It is not clear what the device will be called yet. Previously the Wall Street Journal noted:
Separately, Samsung is also set to release early next year its first ever foldable-screen device, which opens like a book and boasts a 7.3-inch display. Internally, Samsung executives are debating the foldable phone's name, with 'Samsung Flex' and the 'Galaxy Flex' emerging as two candidates, though the decision is far from final, according to a person familiar with the matter.
Pricing is still up in the air, with a range from $1500 to $2500 being mooted.
According to SamMobile, the device will have up to 512 GB of storage and will be offered in Black and Silver.
Read more about the specs here.
Via BJR