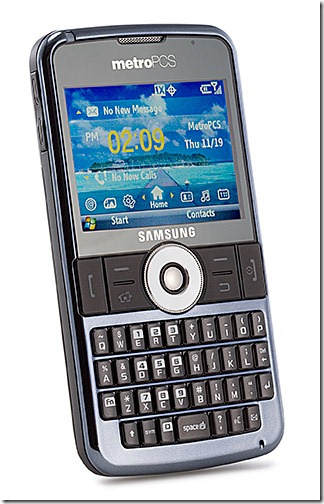 PCMag has reviewed the Samsung Code SCH-i220, and while the device is under-featured compared to the latest and greatest on other carriers, on Metro PCS it's the best smartphone available, and at $1499 over 2 years including an unlimited voice and data plan, the best value for money by far country-wide.
They conclude:
Obviously, the Code is no iPhone. There are many smartphones better than the Code, but they all cost a lot more. If you're shopping for a MetroPCS phone, you're probably not in the market for a more expensive carrier. With unlimited talk time, messaging, and data, the iPhone 3G costs $3,698 over two years. The Code costs $1,499, thanks to Metro's super-cheap plans. Even comparable phones on T-Mobile and Sprint are much more expensive; the HTC Snap on Sprint is $2,499 over two years with an unlimited plan, and the HTC Dash 3G on T-Mobile is $2,259.75. You don't buy the Code instead of a more highly-rated smartphone; you buy it because otherwise, you'd never have been able to afford a smartphone.

In the context of MetroPCS' lineup, the Samsung Code is the carrier's only phone for power users or avid Web browsers. Metro's BlackBerry Curve is expensive and doesn't work in all MetroPCS cities, and the Code simply eradicates the Samsung Finesse on features and performance. If you're looking to step up to a multipurpose phone but you're short on cash, the Code is the best choice.
Read their full review here.