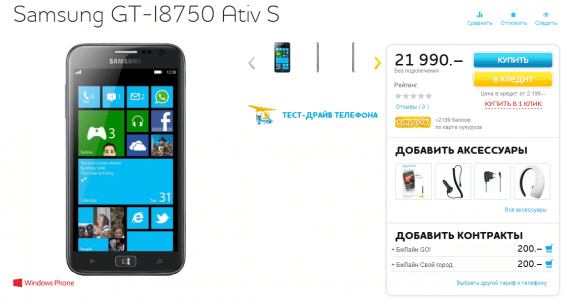 WinPhonelive.ru reports that the Samsung ATIV S has had a $100 price cut, from around $820 to $720 or 21,990 rubles.
According to their enquiries at Euroset and Svyaznoy the handset has not been doing very well, prompting the reduction.  The price at Samsung's official stores remain the same 24,990 rubles.
While Windows Phone has been very well in Russia recently, it has been mainly in the low-end value range of handsets, and of course Samsung does not put quite as much weight behind their phones as Nokia does.
The Samsung ATIV S was the first Windows Phone 8 handset to be announced, but was the last to ship, with an eventual staggered roll-out which lacked the excitement of the Nokia Lumia 920.  One wonders of Samsung will be trying again in the future with a better effort or not.
What do our ATIV S owning readers think of the handset? Let us know below.