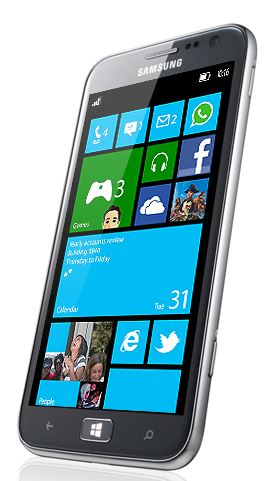 WindowsPhoneItaly reports that Samsung in a press conference there has announced the prices and availability of their Windows 8 and Windows Phone 8 products.
Of interest to our Windows Phone readers is that the Samsung ATIV S Windows Phone 8 Smartphone will be priced at 599 Euro ($775, £480) but will only hit the market in December, (hopefully) well after the launch of the Nokia Lumia 920, which is expected to arrive on the 12th November.
The press release reads:
ATIV S: productivity and entertainment to top
Ideal for both business and entertainment, the new smartphone ecosystem ATIV is able to offer the best experience Windows Phone 8.

ATIV S boasts an extremely slim design and unrivalled performance thanks to a wide range of options for sharing of multimedia content and productivity. The powerful dual-core processor 1.5GHz and HSPA +42 assure excellent performance and a high response speed to better manage the online gaming and business applications.

The sensational HD Super AMOLED 4.8 display "- the best range of Windows 8 – also offers a visualization of multimedia content and web pages only and the colors vivid and bright, for an extraordinary and highly efficient.

Moreover, many services and benefits available soon for those who choose the smartphone ATIV S.

Available from December. Recommended retail price: € 599 including VAT.
Only about 6% of our readers expressed an interest in this handset, compared to much larger numbers waiting for the Nokia Lumia 920. Are you disappointed by the late arrival? Let us know below.