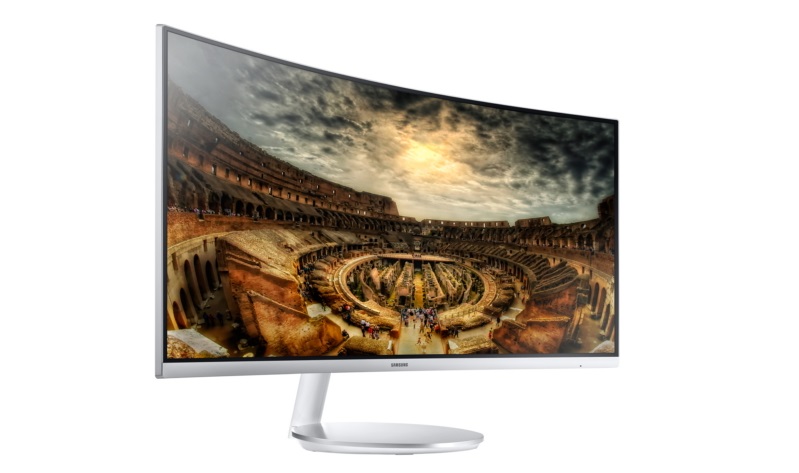 Samsung's quantum dot technology is already featured in the their UHD televisions. At IFA 2016, Samsung is announcing new CFG70 and CF791 gaming monitors with the same quantum dot technology. The CFG70 (24- and 27-inch models) and CF791 (34-inch model) are curved displays that express colors across a 125-percent sRGB spectrum, while employing an environmentally-safe cadmium-free design. Also, Samsung said that each CFG70 and CF791 monitor undergoes rigorous factory calibration prior to shipment. This treatment includes optimization of various settings, including black gamma levels for enhanced brightness and white balance levels for temperature management.
CFG70:
The CFG70 comes with "Super Arena" design that aligns 1800R curvature with sound interactive LED lighting. This format also includes 1 m/s moving picture response time and refresh rate of up to 144 Hz. It comes with their Gaming UX OSD interface which allows users to access the interface's intuitive on-screen dashboard to view all essential settings, ranging from response time to refresh rate, in a single glance. Gamers can also adjust gameplay settings through shortcut hot keys located on the front and back of the monitor.
CF791:
CF791 is the most curved gaming monitor currently on the market with a 1500R curvature (indicating a curvature radius of 1,500 mm) design. And it comes with 100 Hz refresh rate and embedded AMD FreeSync Technology that synchronizes screen refresh rates with gamers' AMD graphics cards. Gamers also can customize the monitor's alignment to match their unique ergonomic needs through a vertically-adjustable stand.